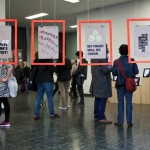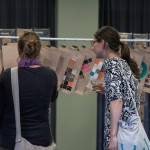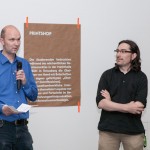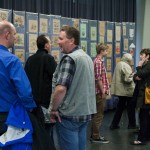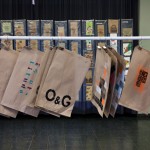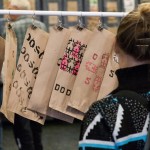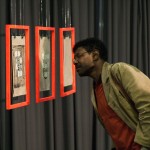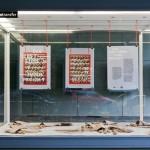 I
n a typography class taught by Thomas Lehner and accompanied by Uwe Vock, students of the Visual Communication course at UdK Berlin are creating an updated interpretation of this traditional packaging product. The project focuses on refreshing the design through use of typefaces and their handcrafted application.
A healthy diet with fresh, local food is not only important for aspiring designers.
The symbol of a vibrant and sustainable food culture is the classic "Eat More Fruit" paper bag that small fruit and vegetable vendors use for their products, which has largely been replaced by plastic bags.
Printshop Markthalle Neun
During the weekly vegetable market at Markthalle NEUN, the students print the fruit bags by hand with their new designs. The designs can be purchased. Select works will be shown at the subsequent exhibition at designtransfer.
Saturday 22 June 10AM-4PM
Markthalle NEUN, Eisenbahnstraße 42-43, 10997 Berlin-Kreuzberg
Exhibition at designtransfer
A selection of freshly crafted bags from the print shop will be shown and contrasted with their historical predecessors from the Hoffmann collection. The fruit bag collection by Manfred Hoffmann is more than 25 years old and includes hundreds of paper fruit bags from 17 European countries.

Opening: Tuesday, 25. June 2013, 7pm
Exhibition: 26. June – 12. July 2013
Monday – Friday 9am – 7.30pm
13 +14 July, Sat+Sun, 10am – 6pm

Contact/Designteam
Thomas Lehner , www.thomaslehner.com, hi@thomaslehner.com
Sven Gutjahr, www.svengutjahr.de
Lena Wessel, www.lenawessel.de
Picture Credits:
_ Entwurf Postkarte/Poster
Sven Gutjahr
_ Erste Druckversuche
Stini Mimissonsdóttir
_ Druckstock
Andra Kradolfer
_ Erster Test geschnittene Schriftkegel
Sven Gutjahr
_ Einzelne Kartoffel-Schriftkegel
Stini Mimissonsdóttir
_ Markthalle Neun Kreuzberg
Stini Mimissonsdóttir
_ traditionelle Obsttüte
aus der Obsttüten-Sammlung Hoffmann